New system!
by Brendan Horan
–
May 17, 2012
Well its done.
The last few months I've been working on a new system to replace my laptop.
Specs :
Asus  Maximus IV GENE-Z/GEN3
Intel Core i7 2600s
16GB DDR 3
1x Corsair M3pro 256gb SSD SATA 6g
2x Hitachi 2.5" 500gb 7200RPM SATA 6G HDD's
Zotac Geforce 460se * Seasonic X series 650w
Cooling :
XSPC raystorm
XSPC Full cover block for Geforce 460
Black ice SR 2x120 Radiator
Swiftech DDC 2.3 with XSPC top
Bitspower multi res
Tygon 3/8ID hose
late-loom fans
On Desk :
Dell U3011 , Wall mounted
Asus SBW-06D2X-U USB bluray BDXL writer
Ducky 82key mechanical keyboard (brown switches) * Logitech Marathon cordless mouse
Pair of Genelec 8020a
Running Gentoo of course ! Idle Temps are CPU 38c | GPU 34c Celsius.
Conky set up to monitor temp's fan and pump RPM's and HK current weather including warnings You can see the images of the build on my flicker
Hears a teaser..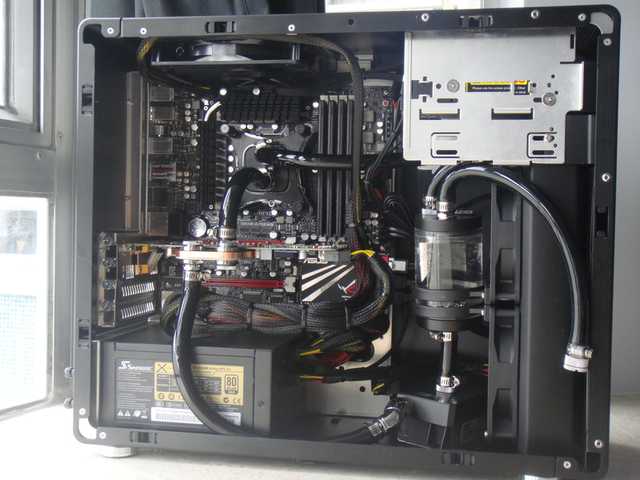 Hears a shot of my Conky :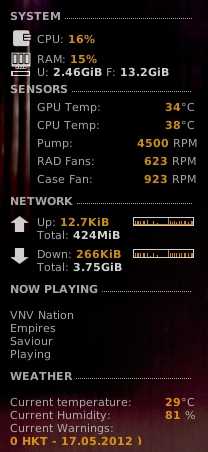 Leave me a note if you want the scripts and conkyrc.