Nice rack...
by Brendan Horan
–
September 8, 2010
Its been a little slow recently...  things to come will become more apparent soon.
For now lets take a look at my rack. Click it to get the full image.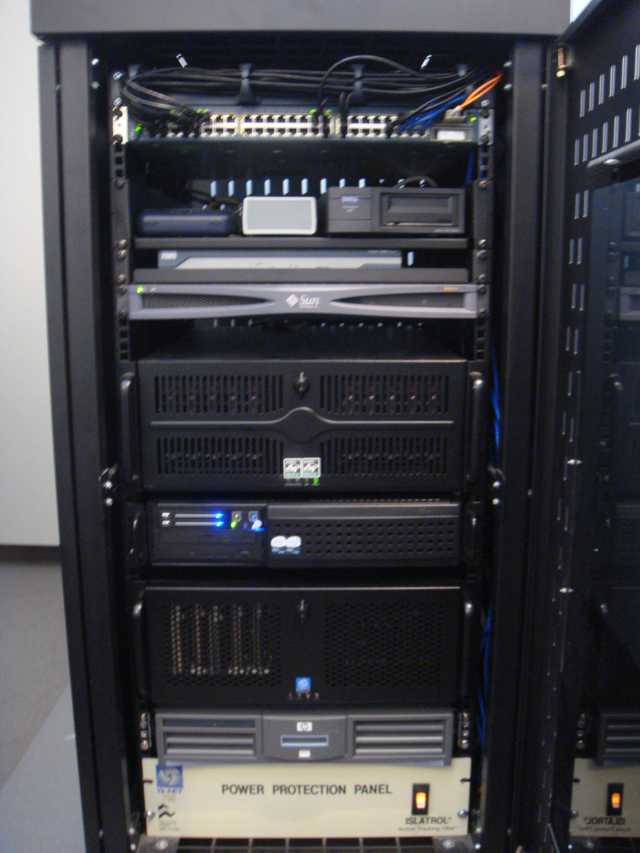 From top to bottom :
Cisco 3500 XL 48 port and 2 GBIC slots with fiber up-link to another switch
(From left to right) Billion ADSL2+ modem, PIC based web server, DDS4 tape drive
Cisco 1812 Router ADSL bridged from Billion ADSL modem
Sun Netra X1 running OpenBSD as my SSH gateway
Dual Opteron box running ESXi 4 ( 24gb ram 2x dual core 2214, 8x HDD)
Dual Intel Sossaman 1.6ghz 4gb ram low power running Gentoo
Hp zx2000 Itanium 2 running HP-UX,OpenVMS, Windows 2008 srv and gentoo Linux
HP J6750 dual 750mhz PA-RISC 16gb ram running HP-UX and Gentoo
I've also got an IBM POWER 4+ dual core 1.4ghz with 4gb ram running AIX 5 and Gentoo Linux. Unfortunately this won't ever fit  into my rack and weights around 40kgs... for a midtower... nice work IBM
Since Oracles handling of Sun, I've gotten rid of all my big Sun SPARC boxs.
As allways you can find more on my flicker